The School Le Ricamiste speaks


Name and address
Name: Le Ricamiste
Address: Via Tonale 9, 20124 Milano
tel. +39 333 4681422
Which techniques are you focused on?
Depending on requests, we use different techniques: cross stitch, drawn-thread works, Hardanger, Punto Antico, reticello and free embroidery, trying to offer an original and personal reinterpretation.
Lately we also focused on simple stitches (such as stem stitch) to create something nice in little time and with no need of big experience.
When and how was the School born?
Le Ricamiste was born in 2013 aiming to pass down a modern vision of embroidery art, involving young people too.
How many members do you have now?
About fifty students.
What is your mission?
Innovation, personality, technique and last but not the least amusement. These are our ambitious objectives, together with traditional Italian passion for embroidery.
Do you give classes and workshops?
Yes we do. We organize classes for 6 or 7 people a time, where students can realize a whole project, helped by their teacher. We also offer classes with a specific focus to learn something in a short time. Finally we give private lessons to fill a gap, sketch out a project and help with any sort of doubts.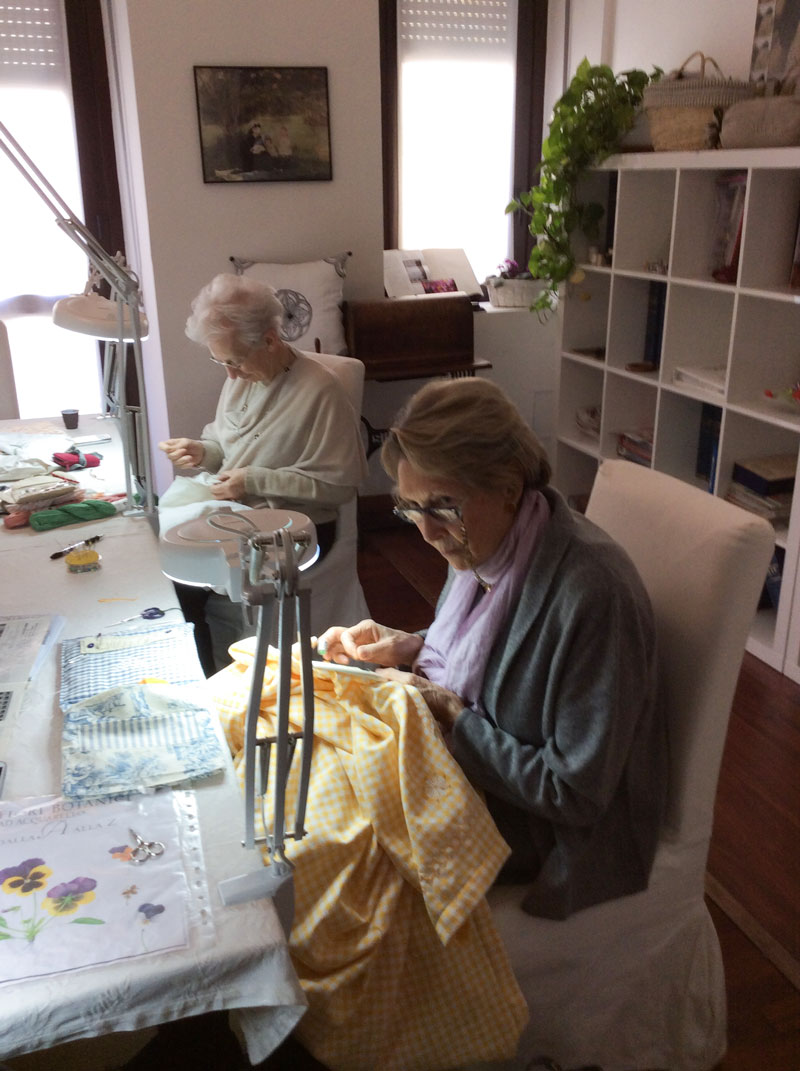 Who are your students?
Our students are mainly women from 30 years old on.
They are all very enthusiastic people.
How is your relationship with the local context?
The School is not very well known yet as it opened just four years ago. However we've participated to a few fairs and exhibitions, so that we are getting more and more popular. For example we have been to L'ago magico and Fatto a mano in Novergo for three years in a row. In 2016 we won the first prize at the contest organized by Valtopina Embroidery School during their exhibition. In April 2017 we went to Manidoro in Bellaria and it was a success too.
Are you working on new projects for the next few months?
We think we will be back to Manidoro and Valtopina in 2018. At the half of November, this year, we'd like to organize an exhibition with our students' works in Milan. We are still working on it so it is still early for details.
How can we follow you?
You can follow us on our Facebook page Le Ricamiste.
We regularly publish news, events, pictures and more information about the School.
Can we see some pictures of your works?